Affiliate Programs
CLICKBANK! If you are a member of clickbank, sign up here to start receiving 50% commissions!! We have a VERY high conversion rate!

If you are not a clickbank member, sign up HERE! It is completely free! Just sign up and get your own unique Clickbank ID.

Then use the code:

http://AFFILIATE.ADVIEDIVA.hop.clickbank.net

and replace the "AFFILIATE" with your own Clickbank name.
Whether you have a blog or a website or anything online, you can use all the space you have to make extra money. My affiliates are making lots of money. A few of my affiliates are making $500 a month! That is great extra cash! For free!
Link the Clickbank code once you have it to one of my ads or banners, or create your own.
You may use a simple text ad such as:
"How To Get Your Ex Back!
Find out how you can turn the tables on your break up and
have your ex start chasing after you and begging for your return!
Everyone has the power and ability to end their own heartbreak.
Find out how to get your love back. Click Here.
Or upload this banner to your server and link it to the clickbank address.

You may also use this book cover and description.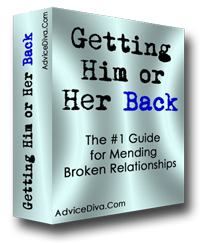 Having a broken heart can be a terrible experience. There are many reasons why your ex may have left you and there things you are probably doing that are making the situation worse. You just do not realize these common mistakes because of the emotional state you are in. Regardless of the way you feel right now, this guide will easily help you to understand the makings of a breakup, it will help you to understand why this is happening to you and it will clearly show you what you may be doing wrong. Next, this guide will take you through the easy steps to turn the tables in your favor and have your ex start chasing you and asking for another chance. Although there is no guarantee due to the existence of free will, 90% of the time the secrets revealed to you in this manual will successfully retrieve your lost lover!! That is pretty good success rate, wouldn't you agree? The Diva is a dating expert so let her help you during these tough times. Don't fall for the gimmicks, those other manuals are a waste of time. Get the Diva's advice today!