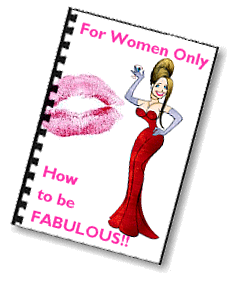 For women only: How to be FABULOUS!!
Do You Want To Be a Diva?
Have you ever wondered what it was like to live the fabulous life? To live extravagantly, have people admire you and even worship you? Do you see the beautiful people and wonder what it is like to be them? Do you feel like there is nothing special about you and that you could never be a fabulous type of person?
You don't have to be a movie star or have a perfect cover girl body to be fabulous. Anyone can live the life that dream of. A lot of it is in your head. If you think you are fabulous, you will outwardly show it to other people. Then they will start believing you are fabulous too!
My Name is Diva Rebecca and I have not always been fabulous! I grew up in a blue collar home working my way through college and ending up in Houston for many years. It was in Houston that I realized anyone could climb to the top, what a fabulous city it was. I saw trailer park women rise to become the wedded bride to dashing oil billionaires. Dreams could really come true here. With a little bit of copying and mimicing the sophisticated crowd, and eventually being invited to gala after gala, I became a social elite.
I was a Houston socialite.
I went from struggling college grad who grew up in a small fishing port in Massachusetts to a Diva.
If I can do it, anyone can do it. Today I am happily settled down back home in Massachusetts with a wonderful doctor. I am as happy as can be, I am in love and I am still a Diva.
It was only natural for me to write an ebook about being fabulous! As silly as it sounds, this is my favorite book and it was the most fun to write! Some parts will make you laugh and most of it will make you smile. You will immediately want to apply everything you have learned and in a short time, you will feel fabulous yourself.
BE A DIVA!!
The manual is for you if:
You want to live the fabulous life.
You enjoy socializing and getting to know new people.
You love the way it feels when you feel good about yourself and you want to feel like that more often.
You don't want to remain a second class citizen any longer.
You want to move up in the world with glitz and glamour.
If you answered yes to all of these attributes, then I would highly suggest ordering this manual now. Do not wait any longer!
This manual will show you:
How to bargain shop and look like you just walked out of Neimans.
The common mistakes women make with reagrds to wardrobe and demeanor.
How health directly affects your fabulousness.
What to do and how to act in social situations.
Tricks you can use to reel people towards you in social scenarios.
How to remain the center of attention.
I hope you have as much fun reading this as I did writing it.
Remember....You can download this ebook RIGHT NOW onto your computer. You don't have to wait, you can start reading it immediately, even at 2am. You can also choose to have this ebook mailed to you if you like. And if you don't have a credit card, you can always use the mail in order form.
Download your own e-book for only $17.99


DON'T FORGET! You can also buy seven books for the price of two!
We have the Diva Package for Women!


You get:
Getting Him or Her Back
The Divine Secrets of the Dating Game
For Women Only: How to be Fabulous!
Red Magick Love Spells
Elements of a Successful Relationship
101 Romantic Ideas
Get What Your Deserve