Deciding on Divorce

Deciding on a divorce can be a terribly difficult decision to be made in a person's lifetime. There are so many factors involved such as children, how long you have been together, what the major differences are and the financial strain involved. But I think the most important question you should be asking yourself concerns your happiness: will you be happier in your marriage or will you be happier after a divorce. And not only ask this of yourself but of your partner as well. Will he or she be happier staying together on on their own? Sometimes you just don't know because you can't see into the future or predict what the future will hold for either of you. But if you are worried that a divorce will make your children miserable, they might be even more miserable if you stay together because they will see the fighting.
There are some obvious factors in a relationship which should help anyone make that divorce decision. If a relationship is abusive in any way, whether it is physical or emotional, it needs to end. An abusive relationship will not get any better until you break that circle of abuse and just leave. There is no reason why anyone should subject themselves to any further abusive while hope and praying that it will get better. It won't. Abusive relationships rarely get better. The ONLY way it would get better is if there was a separation for a good long period of time while the abuser seeks treatment from a licensed professional.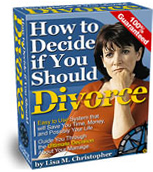 Usually there are many other reasons why you are considering a divorce which are not as clean cut as the obvious abuse symptoms. Sometimes you are dealing with a cheating spouse, sometimes you are dealing with the fact that you just can't seem to get along and sometimes it is just a general feeling of happiness. Whatever the reason may be, you might feel as if you are not sure what the best thing to do would be. Don't worry, you are not alone. That is why there are websites such as Divorce Decision out there waiting to help you. You can research what the best step for you is on this great website. It is perfectly private and confidential and you can read up on all of the material completely online while retaining your privacy. If you are not sure what you should be doing, or even if you should be contemplating a divorce, then do some research and check this website out.
Try and remember that no marriage is perfect. You might look at your grandparents and wonder why you don't have a relationship like that. How come they stuck together and still seem like they love each other? For two reasons: One...because they grew up in a time period which frowned upon divorce. Two....because they stayed together through the hard times. There will always be hard times in a marriage and sticking it through is what makes you both come out stronger on the other end. I know that may sound cheesy but its true. If you just gave up every time the going got tough, you would never achieve anything. Remember that.
Back To Menu