Horny Matches Revenge Letter
| Dating Help | Marriage Help | Relationship Help | Romance Help | Romantic Intangibles | Love Tests | Fun Stuff | Community |
| --- | --- | --- | --- | --- | --- | --- | --- |

Horny Matches Revenge Letter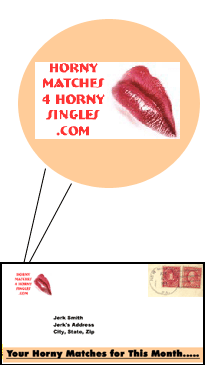 Do you have dirty information on someone? Did someone piss you off who you know has a freaky, dirty and slightly bizarre sexual fetish side to them? Then this would be the PERFECT letter to send. The jerk in your life will receive a letter at work from Horny Matches 4 Horny Singles Dot Com with a giant message on the front of the envelope telling them that we have their horny matches for the month. Inside the letter will show them the freaky matches we have selected for them such as a crack whore and a transexual, and then it will go on to insult them by letting that person know he or she was too much of a psycho slut to be matched perfectly.

What You Get:
A copy of the letter saved in Microsoft Word.
A copy of the envelope saved in Microsoft Word.
Peace of mind knowing that this freak got what was coming to him/her.
$1.99 use our Safe and Secure payment gateway for INSTANT ACCESS!
NOTE : When you receive the letter you just change the name and address and then print it. We will provide instructions to print the envelope.
Choose a Different Revenge Letter

2CheckOut.com Inc. (Ohio, USA) is an authorized retailer for goods and services provided by AdviceDiva.