We are home of the Original and Best Selling
"How to Get Your Ex Back" Click Here
Dealing With Break-Ups
- How To Get Your Ex Back Fast
My Story

Hi, I'm Chase Oliver and I'm 32 years old.

I was engaged to a woman named Sara, whom I was in love with more than anything...

And one day, completely out of the blue - she broke things off

She said she wasn't ready and that she needed time, and she didn't know how long it would take.

I was completely devastated. I mean, we had even had names picked out for our future children!

My whole world was flipped upside-down.

But then something very strange happened... Read the Rest


---

Romantic Resorts, Inns, B&B's and Lodges in Vermont
Top Notch Resort, Stowe, Vermont

Topnotch Resort & Spa is a premier New England destination resort and spa located on a 120-acre wooded estate in beautiful Stowe, Vermont. Topnotch offers endless recreational pursuits in a luxurious resort atmosphere. We are a member of Preferred Hotels and Resorts Worldwide, and Associated Luxury Hotels. Very conveniently located 40 minutes from the Burlington International Airport, Topnotch Resort & Spa is in the heart of the Green Mountains just two miles from Mt. Mansfield, Vermont 's highest mountain. We combine first-class accommodations and services with a full range of resort activities, a world class spa and many other delightful amenities: continental cuisine in our numerous restaurants; two retail outlets with everything from Vermont keepsakes, handcrafts to exercise-wear and sports equipment; a full-service beauty salon; and comfortable common areas such as our Living Room, where complimentary tea and fresh home baked cookies are served each afternoon. For sports, recreation and leisure, Topnotch is a prime location year-round with many entertaining activities, no matter what the weather. Guests can swim in our indoor or outdoor pools; play tennis on our indoor or outdoor courts; cross-country and downhill ski; go for a horseback trail ride; hike, bike, or in-line skate; or take advantage of our spa programs, including aerobic classes, circuit weight training, and a wide variety of revitalizing treatments. In addition, we are complimented by our proximity to the vibrant and historic village of Stowe , the award-winning Stowe Recreational Path, Mount Mansfield Ski Capital of the East, and the Green Mountain National Forest .

Visit The Top Notch Resort Website
Get Map
Just Using One Of The Secrets In The Travel Secrets Guide Could Save You Hundreds, Even Thousands, On Your Next Trip Or Vacation.
Click Here To Learn More!
Wildflower Inn, Lyndonville, Vermont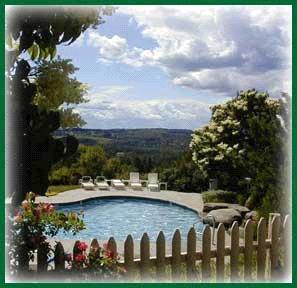 L ooking for the best Vermont inn and vacation resort for your New England family vacation or romantic getaway? The Wildflower Inn, New England's Country Resort, is an ideal Vermont bed and breakfast inn as well as an award-winning family resort. Recognized by such publications as Yankee Magazine's Travel Guide to New England, New England Travel and Life, and Vermont Magazine, our Vermont inn, tucked into the rolling hills of the Northeast Kingdom, offers great family fun, romantic getaways, kids activities and programs, skiing at nearby Burke Mountain Ski Resort, spectacular fall foliage viewing, and an authentic country vacation experience – everything you've been dreaming of for your Vermont resort vacation getaway! A charming romantic getaway destination: If you've been dreaming of a romantic getaway, especially during fall foliage, look no further than the Wildflower Inn. Our romantic inn offers the best panoramic mountain views in Vermont, cozy sitting rooms with wood stove fireplaces, and charming suites, many with four-poster beds. And when it comes to breakfast, the Wildflower Inn takes the phrase "bed and breakfast" very seriously -- each day will start off with a delicious full-country breakfast. One of the best ways to make your romantic getaway extra special is to try our "Romantic Escape" Vacation Package. You'll soon discover why the Wildflower Inn is one of the best romantic inns in New England. Also check out our Vermont Fall Foliage Explorer's Package and more information about Vermont Fall Foliage on our Fall Foliage Page. A resort with something for everyone: Whether you're looking for a great family vacation resort for some New England family fun, a romantic Vermont inn for fall foliage viewing, or simply a 'knock your socks off' vacation package that will show you the best Vermont has to offer, you'll love the Wildflower Inn.

Visit The Wildflower Inn Website
Get Map
Just Travel Agent Reveals Simple And Highly Effective Strategy How To Get Free Airline Tickets and even FREE Vacations!
Click Here To Learn More!
The Inn at Manchester, Manchester Village, Vermont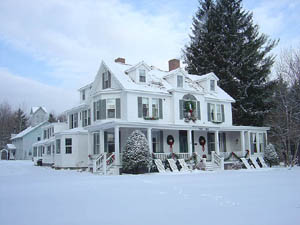 Originally built as a private home in the 1880's, this beautiful, country home became an Inn in 1978. Both the Inn and it's Carriage House are listed on the National Register of Historic Places. Each of the guest rooms and suites have a distinctive look, all with their own unique charm. A blend of casual elegance and warm hospitality makes the Inn a wonderful place for your Vermont "getaway". The Inn is situated on four lovely acres of lawns and gardens and a meandering brook. Nestled in a valley between the Taconic and Green Mountains, we offer a country atmosphere with in-town convenience. Wonderful views of the mountains can be enjoyed in season while you're relaxing by our pool or watching the world go by on the front porch. Great shopping, dining and recreation are just a short walk away. The southern Vermont area is a vacation mecca year-round, and our Inn is the perfect place to stay and enjoy all that the region has to offer. In summer there are craft shows, music & art festivals, golf, fishing and summer stock theater. Fall brings the glorious colors for which Vermont is famous. Winter offers plenty of outdoor activities from skiing to snowmobiling. And there's plenty of antiquing, gallery hopping and shopping all year round! Whether you're looking for that action packed vacation or quiet country retreat, we can help.

Visit The Inn at Manchester Website
Get Map
Click here if you would like to list your romantic establishment.