We are home of the Original and Best Selling
"How to Get Your Ex Back" Click Here
Dealing With Break-Ups
- How To Get Your Ex Back Fast
My Story

Hi, I'm Chase Oliver and I'm 32 years old.

I was engaged to a woman named Sara, whom I was in love with more than anything...

And one day, completely out of the blue - she broke things off

She said she wasn't ready and that she needed time, and she didn't know how long it would take.

I was completely devastated. I mean, we had even had names picked out for our future children!

My whole world was flipped upside-down.

But then something very strange happened... Read the Rest


---

For Those of You With a Big Bank Account!
If you have the money, indulge your special sweetie by spoiling them with some amazing date ideas that will have them talking about you for weeks, just from one date.
#1. Fly your date to a nearby city just for dinner.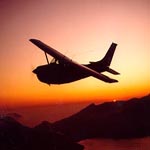 Imagine telling your date that you are taking her/him to dinner at your favorite restaurant and then you end up pulling up to the airport. The city should be close by, so that the flight would only be an hour at the most. Make sure you book the return flight for that very evening, do NOT book an overnight flight without telling her. A woman would likely assume that this is just a ploy to be able to sleep in the same room with her and the obligation for sex she might feel would be displeasing. Also make sure you tell her as soon as you explain the whole date that you will be getting her home that evening. Can you imagine how your date will feel to know that you cared enough to fly her to dinner? Her friends will never hear the end of it. To top it off, she won't be able to wait for the second date.
#2. Going to the opera means getting dressed up.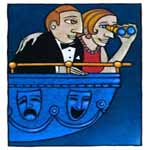 A play or musical isn't always a dress up event. But going to the opera is almost always a sure bet. Make sure and tell your date that you are taking her to the opera and a ball gown will be required. As soon as she knows that, you won't be canceled on. If you are going all out, make sure you get one of the box seats in the side balcony area, the private balcony seats close to the stage. You will make her feel like royalty. Women LOVE to get dressed up, they love to feel special, the love to be with a sharp dressed man and they love to feel a small amount of nobility from time to time. Being a part of the cultural elite is not a bad idea for a date, even if it is only for a short time. You can find a complete list of opera houses here in many countries and every US state. In your city or nearby you should be able to find a schedule of upcoming operas to attend. Make sure and do some research on the opera you choose and read through its synopsis beforehand. This way you can easily explain things to your date if need be and look exceptionally intelligent while doing so.
Are Your Dates Boring?
If one more guy asks me out for dinner and a movie I'm going to smack him!
There are so many other things we could do. Check out these creative dates.
#3. Make it a bed and breakfast weekend.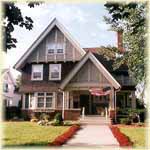 If you and your mate have known each other for a while and feel comfortable on an intimate basis, try retreating to a small bed and breakfast in a remote and cozy area. This is an especially nice weekend date if the two of you have stressful jobs and little time for yourselves. Make it a lazy weekend and find that perfect special cottage for just the two of you. Your date will be able to feel relaxed and completely at ease with you. You will be amazed at how you will be able to talk about anything, and nothing at all, without the constant interruptions of your regular busy life at hand. Be sure to leave your work at home and turn off the cell phone. Devote all of your time to your sweetheart, because the weekend is short. During the day, try out quaint little restaurants and diners, go antiquing or check out the local shops. Enjoy the scenery outside of the city and most of all, enjoy each other. You can find a list of bed and breakfast inns near you at BedandBreakfast.com.
#4. Pamper your date and yourself at the spa.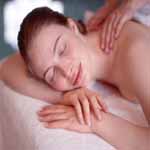 It is wonderful to treat your love with a gift certificate for a day of pampering at the spa, so why not make a date out of it? Tell your date to dress comfortably and be prepared for a few hours of complete bliss and pampering. You should tell a woman a day ahead of time because she will most likely want to shave and prepare before anyone puts their hands on her. You might possible arrange to have back massages side by side, maybe even on the beach if you are near a resort style community. Get the works too and not just the massage. Order a manicure, a pedicure, a foot massage, a facial and maybe even a mud bath. The best way to top off an afternoon like this one would be to end with an evening in a jacuzzi under the stars with champagne and strawberries. You can find and make reservations for a spa retreat at SpaFinder.com.
NO MORE DULL DATES!!!
Are you tired of the same old dates? Come on. They are lame!
If you really want to spice things up and impress your sweetheart,
try out these 300 Creative Dates.
#5. A true romantic dinner is a French one.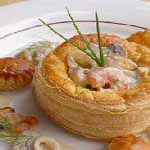 If you really want to impress your date with an incredible night of unique tastes, you must make reservations at a special high class French restaurant. Do some research on this. To make it a truly fabulous French restaurant, it should be very expensive and it should offer 6 to 8 course dinners. Each course is only a small taste of a dish, but it is the taste which is always so extraordinary. You should always make reservations ahead of time to ensure that you will never have to make your date wait. A dinner at a fine French restaurant will almost always be expensive but make sure you don't hold back. Go for the full course dinner and enjoy good food, good company, perfect ambiance and arrogant French waiters. The best way you can find the exact restaurant you are looking for is at OpenTable.com. the best restaurants are always on this site and you can go ahead and make reservations online.
#6. Travel somewhere exotic for the weekend.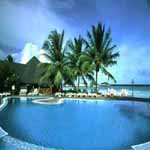 Hey, if you have the money, take a long weekend or longer and travel to an exotic resort. Everyone loves to travel to new places and it can always be incredibly romantic. Make sure that you travel to a resort style destination, and don't make it a sight seeing tour. Being on the run from sight to sight is stressful and romance is hard to come by in this scenario. Instead, fly down to that special resort. It could be up in the mountains at a lodge for some skiing or down in the Carribbean for some warm sand, surf and sun. The latter would be my favorite. What would make something like this incredibly romantic is if it were spur of the moment and not planned like a vacation. Tell her to pack her bags for the weekend and bring that bikini! She won't even care where you are taking her as long as she hears that warm weather is involved! It will be a date. You can find exactly what you are looking for at ResortFinder.Com. Many times, you can also find a resort just for romance where couples only and no children are allowed.
300 Dates for $20 or Less
If you think romantic dates have to cost an arm and a leg
then you obviously haven't been on any of these creative and fun dates.
#7. Dinner for Two on a Yacht.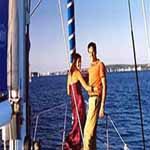 Now this is a master plan which calls for a master chef. You don't have to own the yacht and this can often be arranged at any port side city. You also don't need to be able to know how to captain the yacht. It just so happens that you should be able to arrange to have a private touring on a Yacht which is expressly meant for a couple. Many captains can arrange for a romantic dinner to be prepared with your own personal on board master chef. Take a few hours to enjoy the scenery and the salt water. When the hour is right and at your choosing, have a table for two arranged on the deck of the ship complete with candles. The chef will do the rest. You will have a gourmet dinner prepared exclusively for the two of you and you will both be catered to for the evening. What a rush. Now this is another one of those dates that she will not be able to stop chirping about for weeks. You will have officially given her bragging rights.
#8. Mix Business with Pleasure.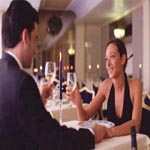 As I said before, women love to get dressed up. It is also in our nature to mix and mingle in social situations with important people. It gives us a chance to shout and be heard...and look good too! If you are the kind of person who regularly attends social functions such as business dinners, political functions, charity events and auctions, parties and galas...bring her along. Don't worry about her being bored, especially if this is a function where you are allowed to dress to the T. Explain to her that this may be a function for rubbing elbows, but you would like her to go with you so that some fun could be had. She would be all the more pleased. Remember, as you go around the room to mingle, bring her along and introduce her before your conversations begin. Then do what you must. Women love to see their man at work!
8 No - No's
Do you know the 8 things you should NEVER do
on a first date (and most other dates)?
If not, you better find out before it is too late.
#9. Rent a Limo on a Regular Style Date.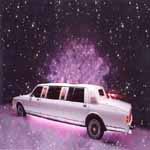 If all else fails, and you are just perhaps going to the same old dinner and a movie or maybe even club hopping, do it in style by renting a limousine. We all love to ride in style! This also gives you the chance to get to know each other without one of you having to be behind the wheel. You can sit back and let the driver have the responsibility of getting you to that all important destination. You can also have a few drinks and loosen up while in the limo. Women love to be seen getting out of a limo with her date. It looks good and makes her feel special. Where are those paparazzi?
#10. Hot Air Balloons and Mimosas.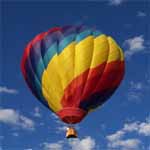 Now this is a special date that you must try if you have the resources. Tell your date to dress comfortably and warm if the weather calls for it. Bring an extra jacket or sweater. Ahead of time, arrange for a hot air balloon ride for two as a special date. Let them know, if at all possible, you would like this to happen: After an hour the hot air balloon should set down in a remote and picturesque setting. You will land next to a table already set for lunch complete with mimosas. Of course, there should already be someone at this table (in the middle of nature) keeping charge of it. I have heard someone doing this before and the woman decided she wanted to have his babies right then and there. Of course, she had no idea they were setting down to this surprise luncheon. It was a super fabulous idea. You should be able to find hot air balloon rides in your area with a quick Yahoo search.
Romantic Dates Home
For those of your with regular bank accounts....
For those of you with no bank account....