We are home of the Original and Best Selling
"How to Get Your Ex Back" Click Here
Dealing With Break-Ups
- How To Get Your Ex Back Fast
My Story

Hi, I'm Chase Oliver and I'm 32 years old.

I was engaged to a woman named Sara, whom I was in love with more than anything...

And one day, completely out of the blue - she broke things off

She said she wasn't ready and that she needed time, and she didn't know how long it would take.

I was completely devastated. I mean, we had even had names picked out for our future children!

My whole world was flipped upside-down.

But then something very strange happened... Read the Rest


---

For Those of You With a Normal Bank Account!
We have come up with some unique and perfect romantic dates for you to breeze over and enjoy. Sometimes it can be difficult to think of new, exciting and romantic dates. We all need a little help in the romance department from time to time!
#1. Local Sight Seeing.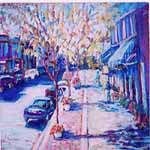 Whatever part of the country you may live in, there are parts of your city and county to be seen. Your area most likely has a local website for tourism. There are probably plenty of places to see such as gardens and historical sights that you never knew existed. It can make for a fun day to get to know your city better and play the part of a tourist. Tell your date that you have a fun day of tourism planned in your very own town. You might even play the part and dress up in flowered shirts paired with khaki shorts, don't forget that camera around your neck! You should compliment an afternoon of local sightseeing with some local cuisine, aptly served in your neighborhood hole in the wall.
#2. Visit the Museum of Fine Arts.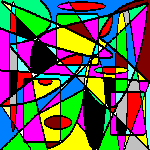 Hopefully there is a Museum of Fine Arts located near you in the closest city. When was the last time you visited? During a grade school field trip? At any given time, your local museum should have special exhibit. For example, precious works by Leonardo Da Vinci are flown from museum to museum every now and then for local viewing. Find out what exhibit is showing at your museum and book tickets ahead of time. After viewing the exhibit, you and your date can take a stroll through the rest of the museum and take real time to view some of the works of art. Use this time to get to know one another. Everyone sees something different in a work of art. Discuss what you see and try to see each other's points of view. This can be a very meaningful date!
Are Your Dates Boring?
If one more guy asks me out for dinner and a movie I'm going to smack him!
There are so many other things we could do. Check out these creative dates.
#3. Use a Double Date to Your Advantage.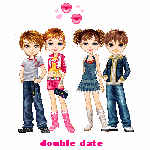 Going out with another pair of friends can be beneficial to your date. If you and your paramour just started seeing each other, this will give your date a chance to see how you act in a social setting. You can also see how your date responds and interacts with your friends. If you and your lover have been seeing each other for a while, a little company adds to the mix and spices things up a bit. It also gives you two a chance to "gossip" at the end of the date while you discuss your friends and the funny things that may have happened during your date, or the funny conversations. Sometimes dates can get a little stale after a while even if the two of you are head over heels in love. Double dating brings you closer to your friends as a group and it gives you more to talk about and discuss.
#4. Candlelit Dinner for Two at Home.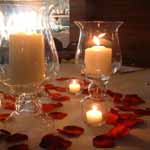 Many of you have that one special dish that you can cook which always results in rave reviews. Make plans to cook a warm dinner for your lover at home. Get some new taper candlestick holders if you don't have any to set the mood. Get the groceries to prepare a full meal with soup or salad, main meal and a dessert. Have some background dinner music playing, something quiet and inspiring. For an added touch, encircle the room where you will eat with more candles and enjoy your romantic dinner with only the candle light. Try and make it is perfect as you can. Use matching dinnerware sets, cloth napkins and the appropriate silverware. Also make sure you know what you sweetie's favorite libation is and get it beforehand to offer with your dinner.
NO MORE DULL DATES!!!
Are you tired of the same old dates? Come on. They are lame!
If you really want to spice things up and impress your sweetheart,
try out these 300 Creative Dates.
#5. Wine tasting at a Local Vineyard.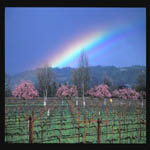 If you are in an area which may have vineyards within driving distance, you must consider this as a great date option! Check around because you never know. You may never have imagined that a wine vineyard could be around but they are everywhere. First of all, the drive through and to a vineyard is usually quite beautiful. Most all vineyards allow for tourists to take a small tour of their facility. It helps with their business. Afterwards you are usually treated to some wine samples. They almost always give you enough to get a small buzz working. This is how they establish business and acquire repeat customers. People are more likely to buy a wine they are familiar with. It is also always respectable to bring a bottle of wine from a vineyard you have frequented. Most people have not been to a vineyard and experienced an authentic wine tasting. That makes this a great date because you will have given your date something new to experience. It is also quite romantic! Buy your date a bottle of wine from the vineyard to bring home as a memento.
#6. Take a Day Cruise or a Harbor Cruise.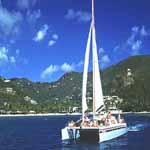 Even if you are landlocked there should be some body of water nearby such as a large lake. Unless, of course, you live where the cacti grow. Almost all lake towns and seaside ports provide some sort of Harbor cruise, a day cruise or a sunset cruise. They are often called a booze cruise. I remember taking a most memorable sunset cruise in Manzanillo Bay south of Guadalajara in Mexico. It was utterly romantic and fabulous. On this date you must remember to bring your camera. Sunset pictures can turn out to be the best pictures you have ever taken which pairs perfectly with a romantic date. Take a picture of your date or a picture of you and your date on the cruise and then have it developed. Send it to her afterwards as a keepsake. If you end up staying together, you can develop a gorgeous photo album which begins with images from a sunset filled first date.
300 Dates for $20 or Less
If you think romantic dates have to cost an arm and a leg
then you obviously haven't been on any of these creative and fun dates.
#7. Go camping in the wild.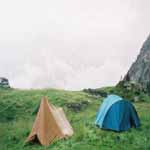 This is a date which can be done when you have become comfortable and intimate with each other. Sometimes the regular dates and nights out can become stale after a while. Liven your love life up with a camping trip out in the wild. The best kinds of camping trips are the ones where you take off backpacking into nature and pitch a tent in a remote location. You should learn ahead of time how to pitch a tent and start a safe fire. Don't forget to pack the toilet paper! However, your date may prefer a campground where you park and camp and where there are bathroom facilities on location. This can be fun too because you can bring more food and beer if so desired. Another fun version of camping would be to rent an RV or pop up camper. This brings with it all the comforts of home. Camping becomes an event of dates in a weekend. You could end up going for long walks together, bike rides, canoe trips and more. Laying out underneath the stars while holding each other is something your are likely never to forget.
#8. Make reservations at an Italian restaurant.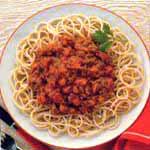 Italian restaurants are often associated with romance. If you are preparing a first date dinner, go for an Italian restaurant. The prices are usually modest to slightly expensive and the food is always good. If you don't know of any good Italian restaurants, ask your friends and family. Someone is always sure to know of one which they find fabulous. Remember to always make reservations ahead of time so that you and your date will not be waiting for too long. Italians have a way of making their feasts warm, inviting and tasteful. Lovers are always seen paired at private tables in candle light at Italian restaurants. Why not be one of them? If you are still at a loss for where to go, always look at OpenTable.Com for they list the best restaurants everywhere and you can book a reservation online.
8 No - No's
Do you know the 8 things you should NEVER do
on a first date (and most other dates)?
If not, you better find out before it is too late.
#9. Take Salsa Dance Classes Together.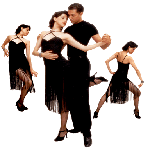 If your woman loves to dance, this would be a sure bet for a great date with her. Ladies, this date would be hard to push on a man, but some men would go for it if they really liked you. Listen up you men. Salsa dancing is incredibly sexy. You get to hold your date close to you, squeeze, grind and practically have sex while keeping your clothes on. It is incredibly sensual. While you might think dancing is for girls, the smart men know that they can play the seducer while learning to salsa dance. You won't get this far on a first date with a woman doing anything else! After your lesson, head off to a club where you can practice your moves. Find a place playing salsa music. This is something you can plan ahead. In between, find a great south of the border restaurant to get you both in the mood!
#10. Instead of dinner, try a Desserterie.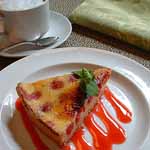 Many cities have a desserterie. What is it? It is a sit down restaurant which only serves desserts paired with perfect wines instead of dinner! They usually have the most incredible desserts specially prepared in their own kitchens. You get desserts you would never see on any other menu. The desserts served in a desserterie are the kind that MIGHT be on the menu in a 5 star French restaurant. They are amazing. And talk about being incredibly romantic. Romance is all about indulgence and there is nothing more indulgent that decadent desserts and wine. You could easily find one near you by doing a local Yahoo search.
Romantic Dates Home
For those of your with big bank accounts....
For those of you with no bank account....